Seize the opportunity - Dominate the market
Vietnam AutoExpo 2022 is a gathering place of domestic and international enterprises in automobile, motorcycle and supporting industries. Enterprises not only display and introduce products, but also seek business partners as well as launch upcoming projects.With around 50,000 annual visitors, this opportunity helps enterprises boost sales, grasp the needs and tastes of customers in order to give the right orientation and adopt a long-term business strategy in Vietnam.
Why participate in Vietnam AutoExpo 2022?
Exhibition Information
NAME OF THE EXHIBITION
THE 17TH INTERNATIONAL EXHIBITION ON AUTOMOBILE, TRANSPORTATION & SUPPORTING INDUSTRY- VIETNAM AUTOEXPO 2022

TIME
09:00 – 17:30 DAILY
FROM 16th – 18th NOVEMBER, 2022 (FROM WEDNESDAY TO FRIDAY)
VENUE
HANOI INTERNATIONAL EXHIBITION CENTER – I.C.E HANOI,
NO. 91 TRAN HUNG DAO STREET, HOAN KIEM DISTRICT, HA NOI
Sponsoring Organization: Ministry of Industry and Trade
Organizer:
C.I.S Vietnam Advertising & Exhibition Joint Stock Company
Co-organizers:
Vietnam Institute of Industrial and Trade Policy and Strategy (VIOIT)
Vietnam Association for Supporting Industries (VASI)
Vietnam Society of Automotive Engineers (VSAE)
CMEC International Exhibition Co., Ltd (CMEC)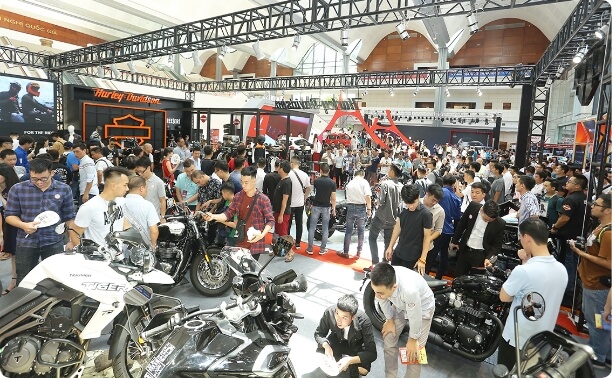 FREQUENCY: ANNUAL
EXHIBITION SPACE: 10,000sqm
EXPECTED VISITORS: 50,000
Media Sponsors:
Dau Tu newspaper; Dien Dan Doanh Nghiep newspaper; Vietnam Business Forum;
Giao Thong newspaper; Vietnam Automobile Transport Association (VATA); O to Xe may magazine; Xe va Doi song magazine; Oto Vietnam magazine; Autovina;
The gioi O to magazine; Cafe Auto, Auto Pro; AutoNet; Info K; Auto Bikes;
Auto Daily, Xe hay; Otofun Forum; Infotrade
Exhibit Profile
MEANS OF TRANSPORT:
Commercial and specialized vehicles such as truck, bus, van, post and telecommunication vehicles, medical support vehicles, vehicles for bank, fire truck, garbage truck and vehicles serving construction, mining and agriculture, etc.
Passenger cars, motorcycle, scooter, electric motorbike, bicycle, electric bicycle, etc. and other vehicles.
SUPPORTING INDUSTRIES:
Machinery, technology and product for producing, manufacturing, assembling automobile, motorcycle and other means of transport, construction machines.
Electrical system, electronics and connection solutions on automobile, motorcycle; Tires, wheels, rims, accessories, managing system for related technologies; Accessories and equipment for customizing exterior, interior and toy.
System and equipment of maintenance, diagnosis and repair for automobile, motorcycle; Paint system, materials for color changing and chemicals, protection technologies for body of automobile, motorcycle; Fuels and additives, system of managing and supplying fuel.
System of cleaning, caring, refurbishing for automobile, motorcycle; New solutions and systems for factories, repair workshops and garages; Security system, equipment and rescue solutions.
RELATED FIELDS:
Garage, repair service; Automobile, motorcycle rescue service.
Banking and insurance; Financial consultancy for manufacturing, business and consumption related to automobile, motorcycle.
System and software of designing, controlling and managing related to automobile, motorcycle, and transport.
Research and development project of application technology; Training, vocationand career orientation related to automobile, motorcycle and transport.
Who will attend the exhibition?
During 03 days Vietnam AutoExpo 2022 is expected to attract around 50,000 visitors
  Governmental and non-governmental organizations; Trade Promotion Associations and Organizations, etc.
  Technical Institute, Research and Development Center, Service Center, etc.
  Industry leading experts, automotive engineers, mechanical experts, consultants, etc.
  CEOs, ManufacturingDirectors/Managers, corporate leaders, business owners, etc.
  Distributors, Sales Agents, Brokers, Dealers, large volume buyers, etc.
  Manufacturers, assemblers, importers, exporters of automobiles, motorcycles, spare parts, etc.
  Transport and passenger transport companies, transport contractors, logistics companies, construction contractors.
  Repair workshops, garages, car rental enterprises.
  Project investors, domestic and international enterprises, etc.
  High-income consumers, consumers in general, etc.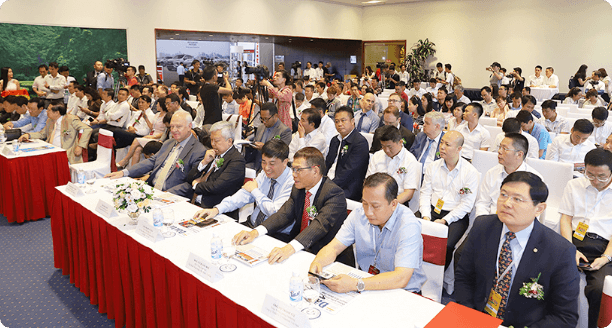 Participation Guidelines
II. REGISTRATION PROCEDURE
To register exhibition booth, exhibitors should follow these steps:
1. Fill in the application form, sign, stamp and email a scanned copy to the Organizing Board, or send the original version via courier.
2. Receive the draft contract from the Organizing Board, review and confirm relevant information and data; The Organizing Board will return the original versions/ scanned copy of the contract duly signed and stamped by themselves.
3. Sign and stamp the original versions/ scanned copy of the contract provided by the Organizing Board, keep 01 copy and return 01 copy duly signed and stamped by both parties to the Organizing Board; at the same time transfer a deposit of 50% of contract value to the Organizing Board. After the Organizing Board receives the contract and wire transfer payment, the registration process is complete.
4. Upon completion of the registration process, the Organizing Board will logically arrange the booth location for you based on the registered area, booth option and exhibition layout.
* This Application Form's value is only valid upon the receipt of a deposit. The rest of the payment must be settled 30 days before the exhibition's opening date.
III. BENEFITS FOR EXHIBITORS
Participating in the exhibition, exhibitors will receive the following benefits:
1. Participation confirmation letter from the Organizer and Support from the Organizer to obtain Approval of exhibits (transport / temporary import – re-export) from Vietnamese Authorities.
2. Become part of the Organizer's pre-exhibition advertising, marketing and promotion campaigns.
3. Company and products listing in the Exhibition Official Catalogue.
4. Attend conferences held within the exhibition without prior registration.
5. Receive an invitation to attend the Opening Ceremony and visit the exhibition in compliance with the Organizer's standards and regulations.
6. Besides the above benefits, the Organizer will select several contractors providing services of construction, transportation and accommodation for participating units to use. Unless otherwise specified, exhibitors reserve the right to decide on using the above benefits. The Organizer will also support exhibitors wishing to hold their own events, activities and seminars during exhibition time (organizing costs will be charged separately as per request).