ANNOUNCEMENT VIETNAM AUTOEXPO 2021 RESCHEDULED
           

THE 17TH INTERNATIONAL EXHIBITION ON
AUTOMOBILE, TRANSPORTATION & SUPPORTING INDUSTRY
VIETNAM AUTOEXPO 2021

---

From August 19th to 22nd, 2021

At Vietnam National Convention Center – NCC, Hanoi
Hanoi, June 18th, 2021
ANNOUNCEMENT
VIETNAM AUTOEXPO 2021 RESCHEDULED
Cordially to: Distinguished Organizations and Enterprises
Thank you very much for registering to participate in the 17th International Exhibition on Automobile, Transporation & Supporting Industry – Vietnam AutoExpo 2021, which was supposed to take place from August 19th to 22nd, 2021 at Vietnam National Convention Center – NCC, Hanoi.
As you know, the Covid-19 pandemic is still spreading in Vietnam and around the world. Although Vietnam AutoExpo 2021 was planned to be held in the second half of August 2021, in the context of the complicated developments of the current pandemic and in order to comply with regulations on disease prevention and control, ensure health safety for the community as well as event participants, especially with the aim of maximizing benefits for exhibitors, the Organizing Board of Vietnam AutoExpo 2021 has made the difficult decision to postpone the exhibition time to 2022. The specific exhibition date will be informed as soon as possible.
We understand that this change may cause inconvenience to your business plan, we hope to receive your sympathy because this is a force majeure event. Our top priority is to ensure the safest and most effective exhibition for all participants. We are committed to doing our best to prepare well and welcome you soon at Vietnam AutoExpo 2022.
Should you need any information or assistance, please contact the Organizing Board of Vietnam AutoExpo. We would like to sincerely thank you and wish you a lot of success in your business. It is highly appreciated that you always accompany Vietnam AutoExpo.
Best regards./.
On behalf of the Organizing Board of Vietnam AutoExpo 2021
Duong Tri Dzung
General Director
C.I.S Vietnam Advertising & Exhibition Joint Stock Company
Đăng ký và liên hệ báo chí
Bất cứ thành viên cơ quan báo chí nào muốn tham dự triển lãm, hãy liên hệ với chúng tôi. Chúng tôi sẵn sàng đáp ứng bất cứ yêu cầu nào liên quan đến thông tin mà bạn cần biết cho bài viết của mình. Bạn cũng có thể đăng ký trực tiếp bằng cách trình danh thiếp tại quầy đăng ký trong suốt thời gian triển lãm.
Liên hệ Ban tổ chức:
Mr. Nguyễn Huy Cường – Phụ trách Truyền thông
Tel: +84 24 3964 4104 / 05 * Fax: +84 24 3984 4108
Mobile: +84.986 34 36 38 * Email: cuong@cisvn.com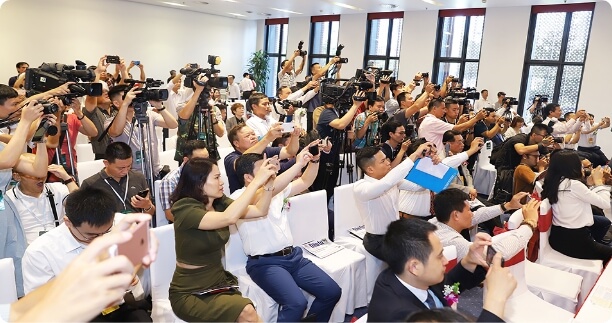 Download
ANNOUNCEMENT VIETNAM AUTOEXPO 2021 RESCHEDULED
PRESS RELEASE NO.1 - VAE 2021
PRESS RELEASE NO.2 - VAE 2021
PRESS RELEASE NO.3 - VAE 2021
PRESS RELEASE NO.4 - VAE 2021
PRESS RELEASE NO.5 - VAE 2021
BROCHURE - VAE 2021DOWNLOAD
POST SHOW REPORT - VAE 2019DOWNLOAD